Posted by Amelie
On September 20, 2016
0 Comments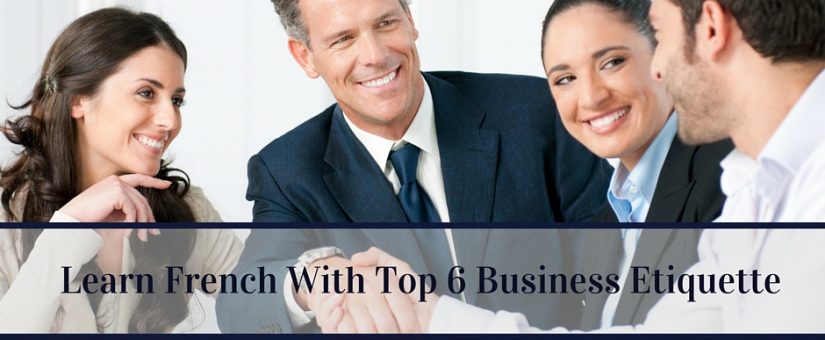 Spoken by millions across Europe, North America and other parts of the world, French is a crucial language in both business and travel.
France is the world's number-one tourist destination and attracts more than 70 million visitors.
Business Executives who hope to get profit from their travels to France should learn French and about the business etiquettes of the areas that they wish to visit.
Good understanding of French language is of primary importance in France, particularly in Paris. Even a basic knowledge of French can make the job much easier, stress-free, more enjoyable and be allowing you to discuss with people who likes to communicate in French.
Attitudes & values are the foundations of France culture and the French adhere to a strong & harmonized set of values and culture. Whether it's a simple handshake or business lunch, the professional protocol is serious business in France.  In France, it is vital to ensure that you make appointments for both business and social occasions. It is not acceptable to drop in on someone unannounced. Such conduct will be taken as an act of rudeness, whatever the occasion.
Kind of formality:
Formality is highly regarded & particularly important in France. In the ways you act, talk, dress, greet others, eat, everything is just a little bit formal in Paris. You should always address your superiors and those you meet for the first time using 'Monsieur' or 'Madame'. Ironically, courtesy and being polite are actually very important to French social customs.
Formalities are such a part of everyday life. The formality in these situations is a sign of respect for one another. How they greet one another, how they dress, how they present themselves at the dinner table and how they speak to one another. Professionalism is highly valued in business and is the key to acceptance of outsiders.
Business attire:
Fashion and appearance are much more important in France than in most other countries in the world.  Be clean and well-dressed at all times.
As the French will perceive the way you dress as being a reflection of your social status and relative success. To work with French business executive's high quality suits, proper formal dress and accessories are recommended. Men should wear conservative suits and ties; women should wear conservative suits, pant suits and dresses.
Frenchwomen are particularly fashion conscious in both their social and business wear and are famous for their restrained, feminine chic. French women often wear makeup.
French Gesture & Body Language:
French body language and their physical gesture is almost everything for their successful business and the most important part of French business etiquettes.  Sit up straight with legs crossed at knee or knees together. The French use the "thumbs up" sign to say "okay." Keep your hands out of your pockets, in office and while communicating in the meeting.
Meeting etiquette for Business:
Shaking hands is a common way to greet someone you do not know, but a kiss on each cheek is an appropriate way to greet a friend or someone you have met before – even if you have only met them once.
Be aware that displays of warmth and generosity between business associates are not the norm in French business culture. Men may initiate handshakes with women.
In business meetings, to make your conversation more interactive, it will be a good idea to learn several languages & French is good to begin with for your successful business grow.
Introduction with First & Last name:
Use last names until specifically invited by your French host or colleagues to use their first names. First names are used only for close friends and family. Address people as Monsieur, Madame or Mademoiselle without adding the surname. In a French business context, introductions are always made using both your first and last name
Learn Dining & Eating Rules:
Always keep both hands on the table, wrists at the edge. Never keep your hands on your lap Treat your waiter with respect, and be generous with compliments on the food. The business conversation generally starts after the dessert is served and it is up to the host to initiate it. Senior managers socialize only with those of equivalent status. The French do not like to discuss business during dinner. Dinner is more of a social occasion and a time to enjoy good food, wine and discussion. Almost all food is cut with a fork and a knife. Never eat fruit whole. Fruit should be peeled and sliced before eating.
---
French Lessons Australia offers fun, engaging French language lessons for adults. We covers all your French learning needs-from beginner, intermediate and advanced conversation classes to French for travelers and corporate sector.
French Lessons Australia – Learn French     |   Visit Us:   frenchlessonsaustralia.com.au
Contact Us :  0415 799 620                                  Email Us : info@frenchlessonsbrisbane.com.au