Posted by Amelie
On December 21, 2016
0 Comments
Colmar, Colmar and Strasbourg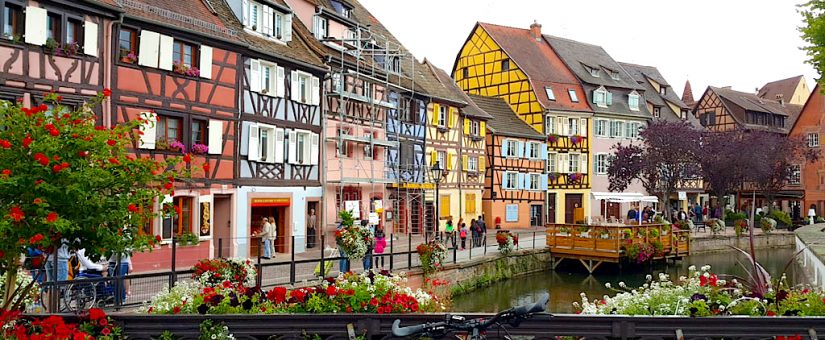 Colmar is probably not the most known city in France, but it is for sure one of the loveliest!
What does this place look like? And why should you definitely see it?
Besides this city, another, bigger, called Strasbourg is also a must-see for its similar medieval architecture, but also for its European importance… At French Lessons Brisbane, we will give you 5 good reasons to visit these 2 beautiful places!
Colmar Medieval towns
Colmar is situated in the Alsace region, in the North East of France, close to the German border. Well-known for its wines and its lovely streets that makes you feel like you were walking 500 years ago, Colmar is one of these cities that remain in your memory.
There are still houses that have been built during the Middles Ages, and many places such as a monastery make Colmar a cultural and historical town to visit.
A good climate
Colmar is also known for its charming climate. Indeed, it is one of the driest cities in France, and its weather in summer is mild and Clement. During the winter, it rarely snows, which is quite surprising regarding its localization on the map!
A long history
Colmar is as you may have understood a pretty old town. The first time we heard about it was during the 9th century. Obviously, multiple wars left traces on the town, but is also what makes its charm… Colmar was the last city to be freed after the Nazi occupation.
Since then, Colmar has focused on its historical beauties. A large part of its historic centre has become a protected sector, and its local musee: the Musee Unterlinden is the most visited provincial one in France!
half-timbered-houses-in-Colmar
Siege of the European Parliament
Strasbourg is located in the same region as Colmar but is bigger and popular for political matters as well as it is the official seat of the European Parliament since 1952! Strasbourg is the seat of several European institutions, such as the Council of Europe (with its European Court of Human Rights) and the Eurocorps. The city is also the seat of the International Institute of Human Rights. This political importance for the EU can be explained by its geographical position between the two first European leaders: France and Germany. In fact, Strasbourg has been for centuries the witness of the rivalry (and enmity) opposing these two great powers. Becoming a strategic city for the EU is therefore symbolic as well.
cathedrale strasbourg
A World heritage site
Strasbourg's historic city centre is classed by the UNESCO as a world heritage site! The city's gothic sandstone cathedral and its astronomic clock does have something magical, and medieval sights are all around the city centre.
Did you enjoy Colmar and Strasbourg? Or would you like to visit them but you would like to first start French? Don't hesitate anymore longer and contact us at info@french-lessons-australia.com  🙂